Nissan revealed the new Leaf not that long ago, but it already looks like they are about to release the car on the Australian market as well. So far the details about the reveal are still scarce, but it looks like it may be closer than we first thought. This would allow Nissan to take hold of a market where electric cars haven't been that great of a sell. Even so, we expect this to change, especially since the 2018 Nissan Leaf is that much better than its predecessor.
What is it?
The Leaf update is the second generation of the car which was, and still is, one of the best selling electric cars ever made. This means it has some rather large shoes to fill, but even so, we expect the car to be just as good, if not better, than its predecessor. As we all know, the car is using Renault's modular platform which they modified in order to be a better fit for an electric vehicle. This time around the car features an independent suspension setup, better brakes as well as less weight.
This was mostly possible thanks to a new denser battery pack but more on that a bit later. One of the biggest changes of the new model has to be its price. In Australia the car is likely going to cost over $50,000 which is quite a bit of money. Even so, it would still be noticeably cheaper than the Tesla Model 3. This should allow Nissan to get ahead of the competition which will definitely be troublesome for the other company.

Design
The changes over its predecessor are noticeable, but it is quite clear the 2018 Nissan Leaf is more of an evolution rather than a revolution. The car's glasshouse is nearly the same as before which is not a bad thing. As we all know, the previous model offered great outward visibility, and this remained true for the new car. On top of that, the front end received quite a bit of attention.
This now features Nissan's V-Motion2 design scheme with a blanked grille, swept-back headlights as well as subtle air intakes in the bumper. The rear is as impressive as the rest of the car. Nissan gave it a bit more character with more aggressive tail lights and a far nicer-looking hatch-door.
2018 Nissan Leaf Interior
Instead of looking odd, the new 2018 Nissan Leaf looks a lot more like a regular car than ever before. The dashboard is minimalist-looking and easy to use, and the materials are definitely better than before. The instrument cluster features a massive LCD screen. There is a great infotainment system as standard while the seats are some of the best at this price point. The car also features slightly more space than its predecessor which will make it a favorite among buyers.

What powers it?
For now, the 2018 Leaf features a 40kWh battery-pack which is quite a bit larger than that of its predecessor. This powers a 110kW and 320Nm of torque electric motor which powers the front wheels. There is a single-speed automatic on board which is quiet and non-restrictive. The interesting part is the fact the car is capable of delivering up to 400km of all-electric range which is very impressive for this price point.
However, it looks like Nissan is also readying a new battery pack for the car, a 60kWh unit. This would increase the range even further, thus giving the Leaf a clear advantage over its main rival. Some also suggested a more powerful version with a different electric motor is possible. While we would love to see it, this is highly unlikely, unfortunately.


2018 Nissan Leaf is on the way. After Japanese automaker had posted the teaser photo, spy photographers caught the prototype almost stripped of camo. The latest set of photos is by far the best we had. The biggest changes are definitely happening up front. The grille will be new as it now seems.
Also, the headlights are now almost entirely horizontally positioned. Like we already know thanks to Nissan's teaser picture the front pair will be new, packed with latest LED tech. Entire front fascia will take a different design step compared to the ongoing model. At the same time, it will now more than ever before, get close to the rest of the Nissan lineup.
2018 Nissan Leaf Specs and Trim Level Price
Nissan Leaf News
The biggest novelty is the little bump positioned at the top of the windshield. From the reports that we now have this lump most likely hides Nissan's ProPilot semi-autonomous system. According to sources, this system will be able to, and we quote: ''assisting drivers in acceleration, braking and steering during "single-lane driving" on highways.''
Also, the Yokohama-based company claims that this is only the first step of even better self-driving technology. ProPilot is part of Nissan Intelligent Mobility which will be future not only of Nissan's but also other manufacturers cars. ProPilot itself will be, in due time, able to navigate through city intersections.
Moving back, to the exterior, on the side profile, the 2018 Leaf won't stray too far from the current version. Glasses on the side, D-Pillar, and roofline look quite similar to the ongoing model. The part that is not the same as the rear. At the back, Nissan will also bring the Leaf closer to the rest of the vehicles in its lineup.
In addition to different design at the back, it should also boost the cargo space. The all-new look will be spiced with a new pair of vertical taillights.
Thanks to the hard-working spy photographers we also have pics of the interior. From what we can see the cabin seems production ready. It doesn't appear that it will differ too much from the current Leaf. The interior layout is similar, but with a touch of additional refinement. It is, by no means, nicer than before, and as you can expect from an EV, it's quite modern. The display is in the middle of the dash, and dial pack is all-digital. If we had to compare it with other Nissan model, it does resembles Qashqai SUV in some manners.
The 2018 Nissan Leaf will be revealed at its fullest before the year ends. It will come with 200 miles of range which should put it in the basket with Chevy Bolt EV and Tesla Model 3. The price is not specified as of yet, but it will probably start in mid-$30, 000 region.


UPDATE/ May 21, 2017. If you needed any additional proof that 2018 Nissan Leaf is coming, besides the spy photos, now you have it. The Big N started advertising campaign, and now we have first teaser pictures of new Leaf. The most important thing remains the announced increase in range; that design will be somehow like it's on new Micra.
The official reveal of 2018 Leaf will happen at this year's Tokyo Auto Show, but for now, we have this teaser image. The picture in question shows a LED technology packed headlight, with a curvy design and a stretch-back look. It looks very similar to the one that you can find on Nissan's Micra but with tidy-bit more details added to the lens.
The exterior design of new Leaf will differ from the ongoing model; but in some aspects such as side profile, it will remain somehow the same. From the spy photos, which show heavy camouflaged vehicle it is hard to determine all of it but something can be conjured up. The principal opinion regarding 2018 Leaf says that it will pull design cues from 2015 IDS Concept.
Also, it will, like we already said move in the direction of new Micra. Both of these models follow latest design language incorporated by Nissan. At the back, even less can be noticed, but at least we know that the tail lights are going to be horizontally positioned.
Inside the cabin, there will also be many changes. We wouldn't like to go ahead of ourselves and predict anything because Nissan didn't disclose any information and the spy photos aren't revealing a thing. What we know is that it will be roomier and packed with high-tech solutions. All of this will come with maximum comfort.
The biggest change, and the one which Leaf needs the most will increase in range. There is no official confirmation at this point, but the industry talk suggests that it will go above the current 172 miles. The competition from Chevrolet and Audi already went far ahead this figure, not to mention the upcoming Tesla Model 3. This prompted the people from Nissan almost to promise better range in 2018 Nissan Leaf. The exact number is not known yet. But, with Japanese manufacturer expected to leave the impression it will be somewhere between 200-250 miles per charge.
2018 Nissan Leaf Price and Release Date
Regarding the price, no one has said anything up to this point, but it will cost more than the current version. This is more than logical because of the changes all around but also thanks to the increase in range. The latest version of Leaf starts at $30,680. The sales in the States will begin during 2017, in late months. At the same time, the European market will have to wait until 2018 to get their portion of 2018 Nissan Leaf.
UPDATE/ Mart 30, 2017When it first came out Leaf EV was a standout car in many ways, and it is still today a unique vehicle, but one thing where it lacked little something was design. All of this is about to change with 2018 Nissan Leaf which is going to be completely overhauled for 2018 MY. The latest set of spy photos are coming from Europe, and on them, we can see Leaf covered in a trashbag-like camouflage.
Despite it being under heavy wraps we can see that Japanese manufacturer is going to give a more conventional look to its precious green car. The outgoing model has traits of original and unique design, but not one that would catch an eye of an everyday driver.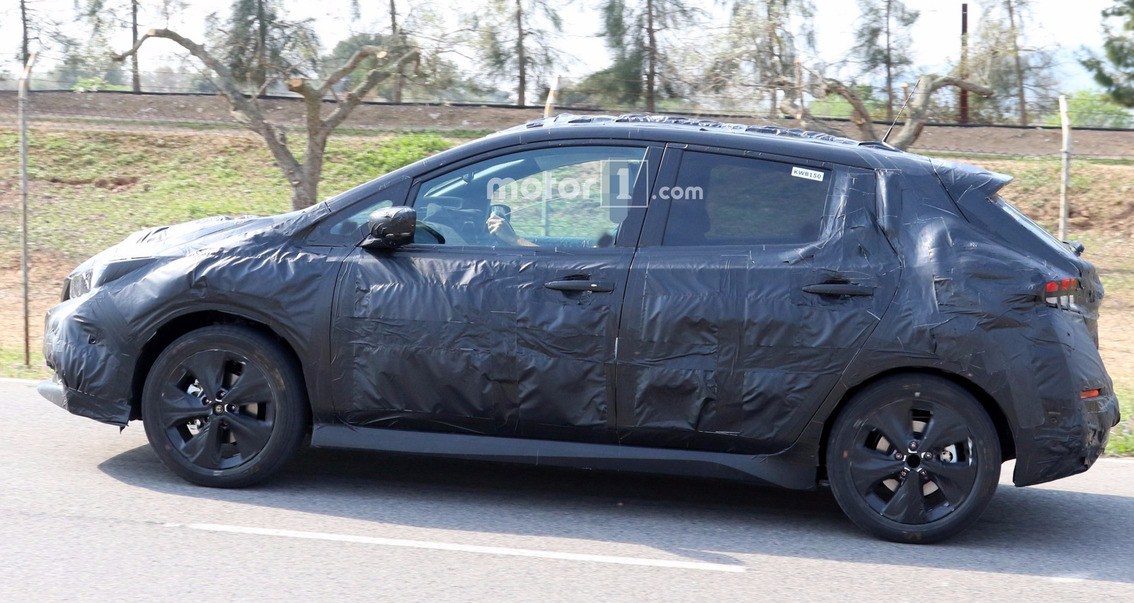 The first sign that 2018 Leaf could come with brand new skin was IDS concept presented in 2015, and from latest spy pictures we can see more than one similarity between the two. The central part of the hood and headlights are the parts of the test vehicle that give us clear signs of IDS-Leaf connection. Regarding the dimensions, it seems that 2018 Leaf is going to be bigger than its predecessor enabling more room on the inside. This change was necessary because today's customers always demand more space and comfort.
Moving onto the rear end, the parallel between two above mentioned vehicles continue. Taillights are, at least from the first look, created looking at the IDS Concept; which is 180 degrees turn away from from the T-lights on current Leaf. Part of the taillights is covered by camo so we can't tell whether will the boomerang shape of concepts lights be fully transferred onto the 2018 Nissan Leaf.

Exterior improvements were a logical outcome of Leaf redesign because the current form was getting outdated, but the changes don't stop there. Under the hood, where, let's be honest upgrade was absolutely necessary; Nissan is going to surprise us with a new 60kWh battery which will enable Leaf to cover 200 miles from charge to charge.
Also, in terms of new tech, thanks to the semi-autonomous driving system, 2018 Leaf will be able to drive by itself on a highway in one lane. Fully naked and completed Leaf will be, according to Yokohama-based sources, presented in September. First sales will start before the year ends, so stay tuned we will keep you informed of any new developments.

UPDATE February 21, 2017. The Nissan Leaf as we know it today stepped onto the scene almost seven years ago. This car owes its longevity to the strong sale numbers which it was putting on the table despite the fact that regarding design and range it didn't drastically improve, through the course of the years.
Now the time has taken its toll on Leaf and with rising competition such as Chevy Bolt EV and the imminent arrival of Tesla's Model 3 Japanese manufacturer decided to step up the game. 2018 Nissan Leaf is on the way; and it's coming with a new design and more importantly new battery pack. Let's see what world's best-selling electric vehicle has to offer with its second generation.
The car spied, which is rightly assumed as new Leaf 2018, is heavily camouflaged but a couple of details can be singled out. As it was expected, more than a few things were transferred from Nissan IDS Concept. Among others, there are angular headlights, taillights of the same shape and a 'floating' roof. Looking at the test mule, from the side it is hard not to notice that its profile is pretty much replica of Nissan Murano. At the front, the car now has previously missing aggressive side; also has flip-up panels which were present on the current model and serve for the hiding of the charging ports.
Like we mentioned the headlights and taillights are different than those on the ongoing Leaf, and with their new design, add to the more meaner look of the car. In the end, 2018 Nissan Leaf is also spiced with a massive spoiler. The design of the interior is still unknown, but new 2018 Leaf will boast some serious tech solutions. A lot of active-safety features and self-driving Pro-Pilot Tech are just some of the things that will come with new Leaf.

The Yokohama-based company didn't release any information about the battery capacity or the range but expect for both things to be upgraded. New Leaf is all about improvement, and these two segments are the most important parts of every electric car. The current installment of Leaf is capable of covering 107 miles from a single charge which is less than what competitor such is Chevy Bolt EV can do.
Bolt EV can cross more than double (238 miles). Nissan's latest EV is looking to top that. If 2018 Leaf continues to build itself on IDS Concept example, you can expect 60kwh battery pack which is twice bigger than what Leaf boasts today. Anything below 200 miles range on new Leaf won't be good enough. Expect it not to only stand with competition such as BMW i3, Chevrolet Bolt EV, Hyundai Ioniq, and Tesla Model 3 but to once again be a leader in this segment.
Have you heard of the car called Venucia e30? Probably not.
September 10, 2016. In China, it is known by this name and the rest of the world calls it Nissan Leaf. "Leaf" is actually a backronym for leading environmentally-friendly affordable family car. Leaf (or LEAF) was one of the first affordable all-electric cars and, in our opinion, was an absolute leader in this field before Tesla came to the market.
With the introduction of Leaf new standards were set in this industry. This car has passed a long way since 2010 and the new model is coming with more innovations.
In order to stay competent, Nissan needs to keep the price under $40,000. Considering new battery pack it is very difficult to make any estimation. According to the CEO, it is still unclear when 2018 Nissan Leaf is going to be launched, but don't expect it before 2018.
Despite new manufacturers entered the market Leaf is still the best-selling highway-capable vehicle with almost 230,000 units sold. In 2011 it won the World Car of the Year since it has zero gas emissions. Leaf is a five-door hatchback which is based on the EV platform developed by the Japanese car manufacturer.
It is assembled in Japan, United States, and the United Kingdom and there is one new factory in China. It comes with lots of pros and cons and in this article, we'll focus on advantages and disadvantages of the upcoming model.
2018 Nissan Leaf Range and Battery Options
Surely the most interesting part of the 2018 Nissan Leaf lies under the hood. The current model uses two different battery packs. Standard pack is a 24-kWh lithium-ion unit while the second option is a 30-kWh battery. Mile ranges of these two engines have been extended since 2011. At first, their ranges were estimated at 73 and 109 miles respectively. The latest data for the 24-kWh battery pack shows its mile range is 84 miles.
However, one of the biggest competitors, Chevrolet, announced the upcoming model of Bolt is going to have a 200-mile range, which had a huge impact on Nissan.
Leaf currently cannot stand side by side with Tesla Model 3 but Nissan confirmed future Leaf will be able to be a decent opponent with better mile range. According to the latest announcements, 2018 Nissan Leaf is getting a 60-kWh lithium-ion battery which significantly increases mile range. Even though larger battery means additional weight, Japanese automaker found a way to increase mile range.
Reportedly, 2018 model will be able to reach between 200 and 210 miles of range. In order to stay competent, they had to add new battery pack. Nissan CEO announced two years ago that next Leaf was going to have around 250 miles of range, but obviously, that didn't come true. However, we are pretty much sure the latest announcements are going to come true.
More Battery Options?
At this point, it is unclear whether the 60-kWh unit is going to be the only available battery. There are some rumors that perhaps there are going to be batteries with better mile range. Tesla Model S comes with either a 60-kWh; 75-kWh or 90-kWh units and their range is quite close to 300 miles. If Nissan wants to be more competent with 2018 Nissan Leaf they need to focus on this aspect.
Design of New Leaf
The design of the 2018 Nissan Leaf will look even more futuristic than before. The front fascia is one-of-a-kind and comes with narrow headlights and lots of sharp edges. Nissan always has outstanding design solutions and Leaf is a good example of their creativity. It is still unclear whether it will have a panoramic roof or not but that would be a nice feature. We're still waiting for the interior details but we're sure Nissan won't let us down.
Nissan IDS Concept Exterior Gallery
Find out more about Nissan IDS Concept on the official Nissan website.
2018 Nissan Leaf
Price

Design

Battery

Mile Range
Summary
At first, their ranges were estimated at 73 and 109 miles respectively. The latest data for the 24-kWh battery pack shows its mile range is 84 miles. However, one of the biggest competitors, Chevrolet, announced the upcoming model of Bolt is going to have a 200-mile range, which had a huge impact on Nissan.
Price: $40,000